You loved Clear Vegan Protein, so we thought we'd give you that fruity feeling once again with our NEW Clear Soy Protein! Made with real fruit, this blend is completely soluble in water, packs in 10g of soy protein, and is super light and refreshing. What more could you want?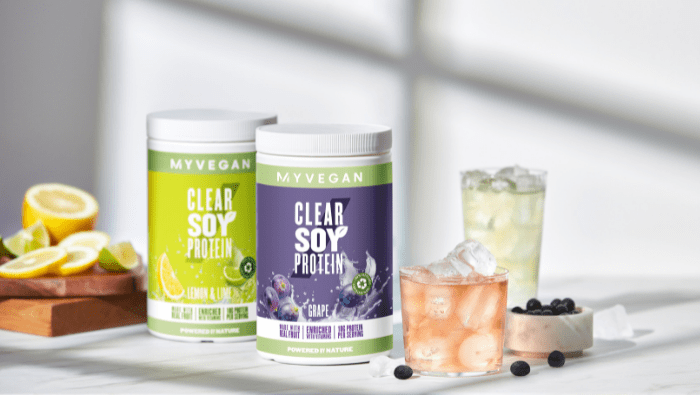 Next-level nutritionals
As well as being a complete source of plant-based protein, each serving contains 30% of your recommended daily intake of essential B vitamins, including a good amount of that pesky B12 that can be a little harder to get your hands on. It also contains pantothenic acid (B5), thiamine (B1), and vitamin B6 which can support mental performance, heart health, and fight fatigue.1,2,3
With a sweet and fruity drink, you might also be worrying about the sugar content. Lucky for you, Clear Soy Protein is super low in sugar, making it perfect for working alongside weight loss goals (or any goals for that matter).
Tastes good, does good
With three fruity flavours in our Clear Soy Protein range – Grape, Orange & Pink Grapefruit, and Lemon & Lime – you can mix things up depending on your cravings. And, if you're being mindful about the packaging you buy, you can rest assured that the tub is 100% recyclable, too!