Swap out your usual Easter egg this year for these chocolatey, protein-packed treats!
---
Like Christmas, Easter is yet another excuse to eat as much as we want. But, if you're feeling particularly health-conscious this year, it's a great idea to have your cupboards stocked with healthy and satisfying treats, ready for when your sugar cravings kick in.
Luckily, we've got you covered with a selection of indulgent, vegan-friendly proteins and snacks that'll satisfy your sweet-tooth and support you fitness goals all in one. We're talking Gooey Filled Cookies, luxurious triple-layered bars, and chocolatey vegan protein powders. We. Want. It. All. Can you blame us?
For delicious-tasting, totally worth buying vegan Easter treats, keep scrolling…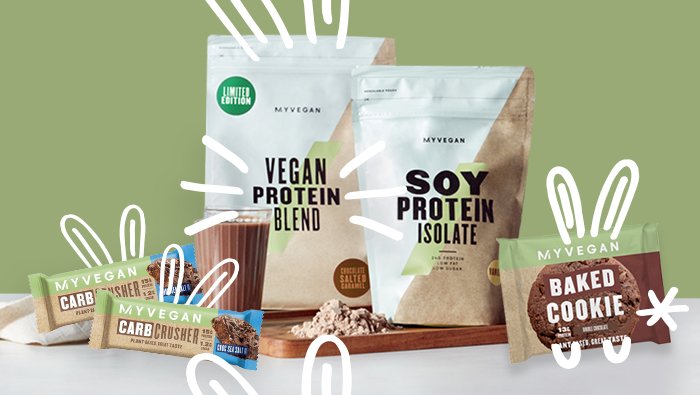 Vegan Protein Blend
Our Vegan Protein Blend is the creamiest, most indulgent protein powder around. Available in 10 mouth-watering flavours, including: Chocolate, Chocolate Salted Caramel, and Cacao & Orange, this is the go-to post-workout shake for those with a serious sweet tooth. Packed with 22g of protein and just 110 calories per serving, this blend is sure to push you through your Easter weekend workouts.