Our bodies are around three-quarters water, so staying hydrated is an essential part of your everyday health and wellness. But exactly how much water should you drink a day? And what other foods and drinks can help with hydration?
Here's your 101 guide covering everything you need to know about staying hydrated, including:
Why Is Water Important?
A well hydrated body is a well-functioning one: the body is made up of 60-75% water after all! We need water within the body for the transport of essential nutrients and oxygen, which are needed for cells to function correctly. Our kidneys need water to correctly filter and remove waste products. Water is also used to regulate temperature, especially important in warmer weather or during exercise.
Here are 5 ways that staying hydrated helps keep your body healthy:
1. Healthy skin
Water is needed to maintain hydration of skin. Low fluid intake can lead to dry skin and increased water loss from the top layers of skin. Good hydration is needed to maintain elasticity of the skin and prevent dry and dull-looking skin, both of which are a sign of skin ageing.
2. Prevention of infection
Poor fluid intake can increase the risk of urinary tract infections including cystitis. Not drinking enough can also put our kidneys under stress, making them work overtime to filter out the body's waste products.
3. Cognitive function and physical performance
Being well-hydrated is vital for both physical and mental health. Even mild levels of dehydration can lead to reduced cognitive functioning and worsened physical performance. Poor hydration levels can also have a negative impact on both mood and energy levels.
4. Healthy digestion
Water is needed to aid the absorption and breakdown of fibres. Water helps to soften stools as well as helping pass stool through the digestive system. Chronic digestion may lead to poor gut health and constipation.
5. Healthy joints
The cartilage in all of our joints contains synovial fluid. This fluid helps to lubricate the joint, allowing smooth and pain-free movement. Adequate hydration is needed to help maintain levels of this fluid.
How Much Water Should You Drink A Day?
Like most dietary recommendations, age, lifestyle and other individual factors will impact how much water is needed on a daily person. The recommendations below are a general guide only, and should not be used as a substitute for medical or nutritional advice.
Recommended Daily Water Intake
Most adults need 1.5-2 litres of fluid per day; a small glass (smaller than a can) contains around 200ml. This means that an adult would need to drink 8-10 small glasses of water per day.
Children require slightly less, at 6-8 small glasses of water per day. However, once they reach teenage years their fluid needs will be similar to an adult.
People with certain medical conditions, are pregnant or breastfeeding, or work out regularly will likely require a different fluid intake compared to the average adults.
Do Other Fluids Count?
Tea and coffee both count towards your fluid intake however, it's worth noting that both of these can act as a diuretic to increase urine output. Milk, fruit juices and smoothies, protein shakes and carbonated drinks all count towards your daily fluid. One 150ml glass of fruit juice also counts towards your 5-a-day!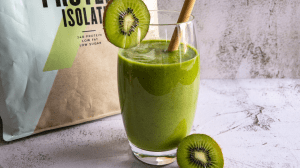 Signs Of Dehydration
We've already mentioned that even mild dehydration can have a negative impact on mood, cognitive function, and physical performance. Here are 5 signs of dehydration to look out for:
Dark coloured urine
Headaches
Fatigue
Dry mouth or throat
Dizziness
How To Stay Hydrated
It can be difficult to know how to increase fluid intake, especially if it's something you aren't used to! Be aware that when you start to drink more water, you may need more frequent trips to the toilet. However, as your kidneys get used to filtering more water, this should start to settle down.
Here are 5 tips to help you stay hydrated if you're struggling to drink enough water:
1. Add flavour
Adding cordial or squash can be really useful if you don't like the taste of water. Infusing fruit in your water bottle can also provide natural flavours which may have additional benefits according to the chosen fruit.
2. Keep track
Many health apps have a feature which allows you to track water intake. This could be useful to make sure you are reaching the recommended amounts. Alternatively, treat yourself to a nice new water bottle which has a reminder on the side to drink more water at given times of day!
3. Include protein
Adding a scoop of clear protein not only adds delicious flavour to your water, but can help you feel more satisfied and supports the growth and maintenance of muscles. You could also try ready-mixed protein water, which might be easier to carry on-the-go.